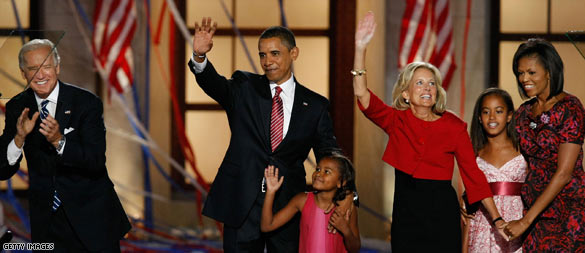 Singer/actress Jennifer Hudson opened up the show with a powerful version of the Star
Spangled Banner on a night that felt like both a rock concert and pep rally all rolled into one. Will.I.Am and John Legend performed their award-winning song
"Yes We Can"
and Sheryl Crowe sang a few of her most popular songs as well. Stevie Wonder came with a few hits too and ended his run with the Obama-minted "Signed, Sealed, Delivered" (which we certainly hope it is!) Michael MacDonald sang "America The Beautiful."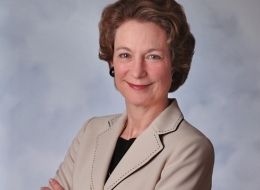 The day was historic in another way. It happened to land on the 45th Anniversary of Marin Luther King's famous "I Have A Dream" speech. Bernice King and
Martin Luther King III
came out and gave emotional homilies on the significance of the day to them and to Black people across the country. Susan Eisenhower, granddaughter of Republican President Dwight Eisenhower, gave a wonderful short oration in favor of Barack Obama and an argument change in this country. Very compelling!
Al Gore delivered a powerful
environment-centered speech
that touched on the damage that Bush has done to the country and what would have happened if the national decision had been different four years ago.
"Today, we face essentially the same choice we faced in 2000, though it may be even more obvious now, because John McCain, a man who has earned our respect on any levels, is now openly endorsing the policies of the Bush-Cheney White House and promising to actually continue them, the same policies all over again. Hey, I believe in recycling, but that's ridiculous."
He wrapped up by asking Americans to stop voting their fears and to vote their hearts instead.
New Mexico Governor Bill Richardon and VP Nominee Joe Biden also came out and gave supportive speeches but the star of the night was, of course, Barack Obama. He was introduced by a short film created by the Democratic Committee that summarized his life and his journey to becoming the first African American nominee for President of the United States.
"Tonight, I say to the people of America, to Democrats and Republicans and inependents across this great land -- enough! This moment -- this election -- is our chance to keep, in the 21st century, the American promise alive. Because next week, in Minnesota, the same party that brought you two terms of George Bush and Dick Cheney will ask this country for a third. And we are here because we love this country too much to let the next four years look just like the last eight. On November, we must stand up and say: "Eight is enough." "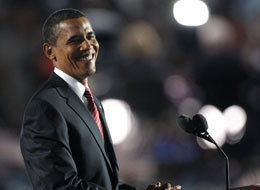 Obama did everything he could have done to convince nay-sayers (are there still any left?) that he will do the right thing for the country. CNN's Anderson Cooper kept joking about "drinking the Kool Aid" but in a time when people are so desperate for change, when mortage companies are going down in flames and people can't afford their own homes, when joblessness is high and education is unaffordable, we need someone to lift us up and out. John McCain can't do that. Barack Obama can!

Obama was sure to lay out his plan, this time and I was so proud when I heard these words: "So let me spell out exactly what that change would mean if I am president."


I thought, "Finally! They can stop saying that he's not specific." Obama spoke for almost an hour and laid out his plan for his presidency. I am not so deep in the Kool-Aid that I believe that all of these things will happen. I know that on the day of his election, rainbows wont pop up and it will always be 80 degress, and starving people will miraculously learn to cultivate their own lush green gardens.
But I do believe that the hope of a better tomorrow will help to lift the spirits of a country of great people that feel as if the government, the people in charge, have left them behind. We are supposed to be the greatest country in the world. We used to be a superpower that everyone aspired to emulate. Now our dollar is weak and we have little or no international credibility. If we don't remember anything else about Barack Obama, we always need to remember these words:
"There has never been anything false about hope!"
Incidentally, according to the Huffington Post, Nielsen Media Research said more people watched Obama speak than watched the Olympics opening ceremony in Beijing, the final "American Idol" or the Academy Awards this year. Obama talked before a live audience of 80,000 people in Denver.